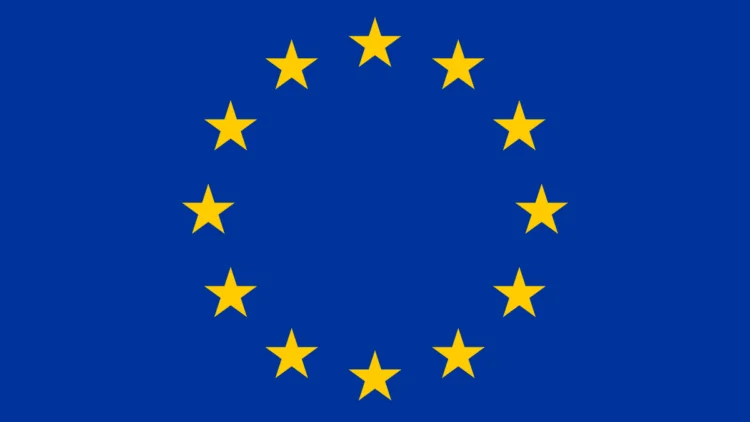 The New European Local SERP – Is It Enough for Google's Rivals? Could It Ever Be?
Google's status as an omniscient, all-powerful online entity has been facing a lot of challenges, particularly in the last few years and particularly in Europe, where it was hit with an antitrust fine of $2.7 billion dollars in 2017 for pushing its own content in its shopping results.
Since then, Google's results in Europe (and the UK, wherever that is now) have included results from third-party shopping feeds. This effectively gives shoppers the choice to make their purchase through another supplier, rather than forcing them to pass any commission from the sale through to Google: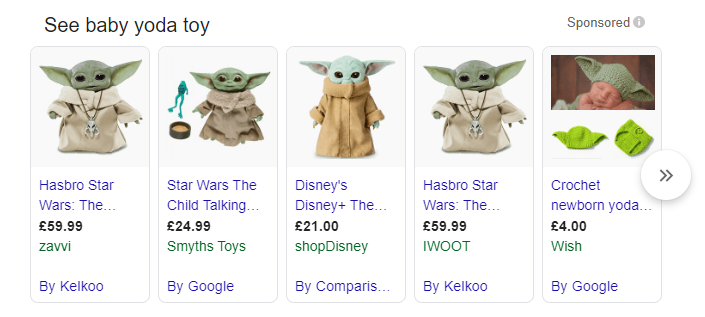 It could be argued that very few consumers pay attention to which shopping feed they buy through (indicated in the "By …" text at the bottom of each ad), and are more likely to make their decision based on the most eye-catching or (even more likely) cheapest listing. But at least Google is sharing some of the pie now, albeit begrudgingly.
Now it looks like Google are pre-empting a similar decision, considering a change they've just made in the main search engine results page (SERP) in some European countries. Where available, Google is now showing other sources of similar search results, close to the top of the results page (well, under the paid results at least):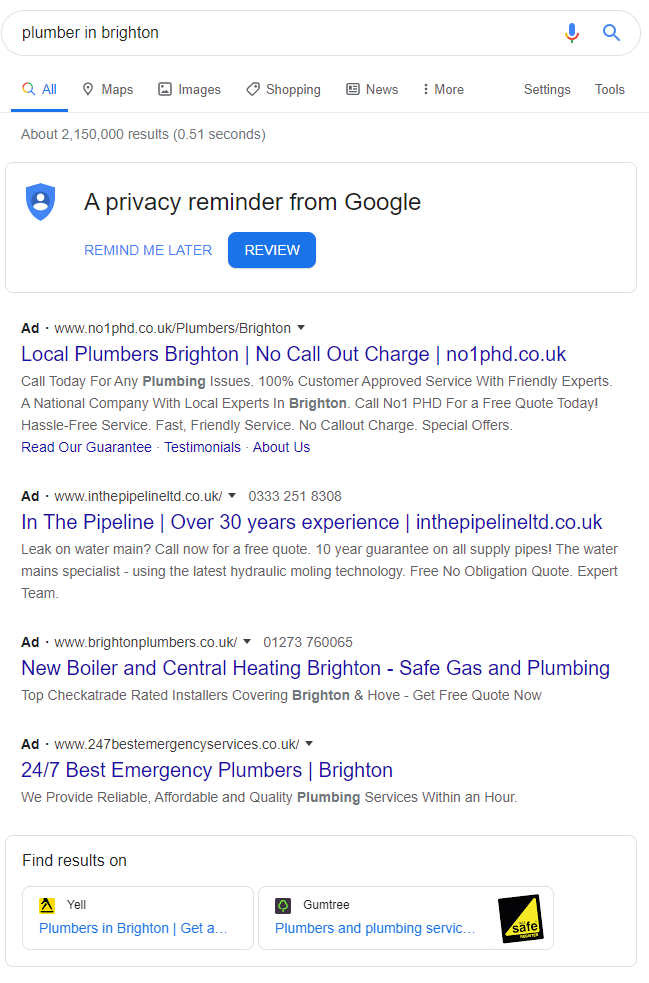 So far, this result has been confirmed as appearing in the UK, France, Spain, Belgium and Greece, and is likely to pop up in other European countries soon, if it isn't already. It mostly appears for searches for local businesses or services, that are listed in other directory-type websites like Yelp or Yell.com (it doesn't go as far as listing rival search engines, which seems fair enough). Those sites that are lucky enough to be included get a link to their own results for the same search, in a prime spot just above Google's own local listings. While this is still below the fold on most mobile screens, it's still pretty prominent, and it's right under your nose on desktop results.
There's a strong sense this has been done by Google to provide a defense in future European hearings, or at least hold off another damaging verdict. Perhaps they're hoping they can present this as evidence of their magnanimity in sharing some of their own real estate with "rivals" before they were even asked to.
But, seriously, will anyone who isn't already a little invested in scrutinising search results, even notice? If they do, will they care? Why would someone click away from the trusted Google search results they've already been served up, just to see if the others are as good? In most cases I've seen, they're not. I mean, how could they be? You're comparing local listings that have usually been bought and paid for by a business, and often written by the business themselves, with thousands or millions of results specially selected in real time by the world's most powerful search algorithm. That's probably why you did your search on Google in the first place, so why would you be distracted by something that pales in comparison? After all, the third most-searched query on Bing is "google".
While a decision to click on a shopping result will be motivated mainly by price and availability, the only determining factor in an organic local result is going to be the quality of the result itself, and that's what Google is known for, above and beyond even the most successful local directory sites.
In addition, shopping results are sponsored, with shopping engines bidding against each other (and Google) for prominence in the results, and are appropriately labelled as such. There's no equivalent label for these new local results and it's not clear how Google is selecting them. It's almost definitely an algorithmic selection. However, while we haven't done an extensive check of these results by any means, even a quick check brings up some pretty poor results. For example, this is the top listing on a set of Tripadvisor results for a "gyms in brighton" search:

This isn't entirely Tripadvisor's fault; while the page Google has linked to features "Spas & Wellness" as well as "Health/Fitness Clubs & Gyms", the listings are sorted by best review, and if a business wants to list itself as a gym, or anything else, it can, even if it's not relevant. That being said, of the other results listed on this page, neither of them are likely to be what you were looking for either. Needless to say, Google's own results are more accurate, more comprehensive and more satisfying.
Directories simply don't present results in the same way Google does, and couldn't if they wanted to. And, it would seem, no one warned them this was about to happen in any case, so they didn't have time to make themselves more presentable. But is Google picking and choosing rubbish results to make its competitors look worse?
Probably not. It really doesn't need to.
This isn't the first time Google has tried this out. In 2013, it suggested a solution for presenting competitor results, which became known unofficially as "rival links". This approach was criticised by many of these rivals and ultimately rejected by the European Commission. When Google experimented with a similar version of what we're currently seeing in April last year, they came under more criticism, particularly from Yelp who accused them of rehashing the already discredited "rival links" proposition. It's unlikely that Yelp, or other competitors, will be any more impressed with this iteration.
If the European Commission do come after Google again, this latest change may do nothing to appease them, particularly as it lacks originality. But what solution could? Google has already grown, both technologically and as a business, to such monstrous proportions that no local directory could ever hold a candle to it. And Google knows that.
Perhaps this isn't an experiment in displaying fairness at all, or even an attempt to pre-empt any kind of ruling. Maybe Google is just flexing.