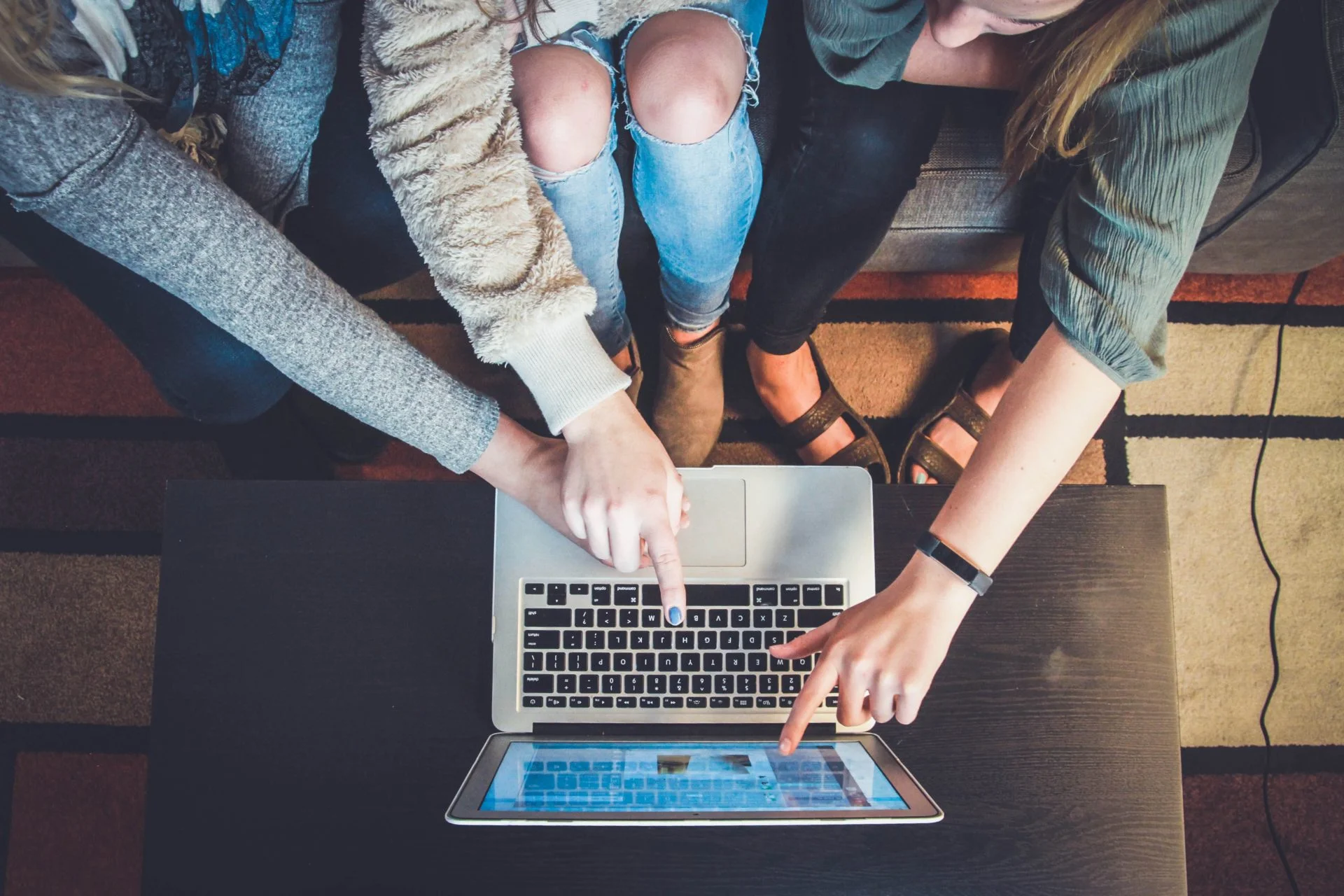 The month in links: May's Digital PR highlights
The sun is shining, summer is on the horizon, and despite having had more bank holidays than it could shake a stick at, the Digital PR team has been firing on all cylinders this month. Releases of big blockbuster shows and movies dominated the media cycle in May, giving way to some wonderfully creative campaign ideas (mermaid spa day, anyone?!). TikTok trends continued to gift the team with weird and wonderful outreach opportunities, and some juicy coverage was landed thanks to three of our country's most-loved things: dogs, wine… and David Attenborough.
Read on for this month's campaign launches, coverage highlights and Digital PR team takeaways.
Brand Campaigns
Wildlife Trends Report- Explore Worldwide USA
https://www.exploreworldwide.com/blog/wildlife-online-trends-report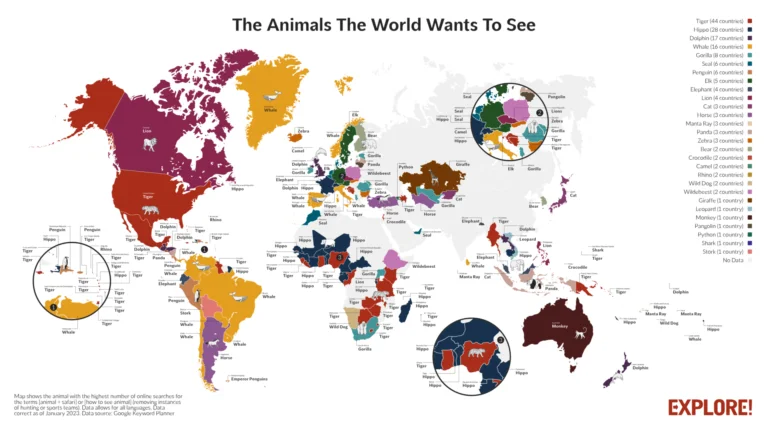 One of our key focus areas to improve site visibility for Explore Worldwide's USA domain is their wildlife tours page. During ideation we discussed how people are drawn to different animals, and how we have a different kind of appreciation for wildlife in our own country versus other countries.
We created a comprehensive report that looked at online wildlife destination trends around the world, using TikTok, Instagram and Google data. The report revealed the most popular countries on social media for wildlife content, and used search data to reveal which animal people in different countries wanted to see the most. The onsite content included a mix of bespoke map graphics, tabled results and expert tips. Since launching, this campaign has landed 37 pieces of UK and international coverage, including The Daily Mail, Vancouver Is Awesome and One Green Planet.
'Working with global search data can lead to some super interesting maps, but the results need careful sense checking – especially when translations are involved. A campaign all about animals is naturally a fun topic, but we had to account for things such as sports team names (i.e. if a popular team name in an area was 'Beavers' for example, then that would explain the large volume for 'How to see beavers' searches!). We also had to take into account that safari searches in some locations had a search intent for hunting those animals, and not simply going to see animals. There were also a few translations that had to be sense-checked. But our thoroughness paid off, with the campaign capturing the attentional of national travel writers both in North America and worldwide.'- Stephanie Finch, PR Director
How David Attenborough Are You?- Explore Worldwide UK
https://www.explore.co.uk/how-david-attenborough-are-you/hdaru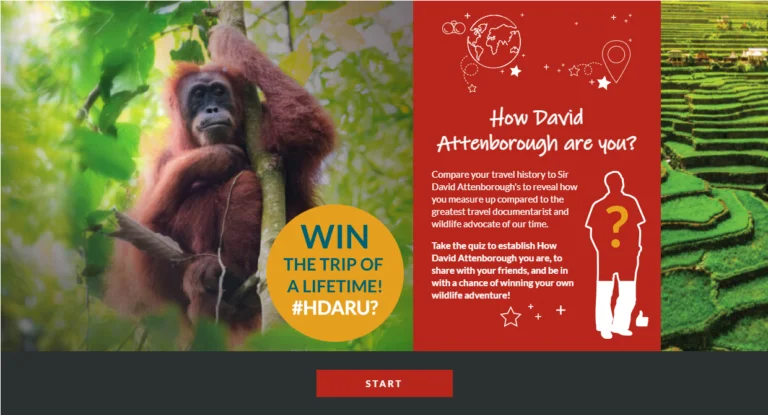 There is plenty of opportunity to improve site visibility for Explore Worldwide's wildlife holidays page on their UK domain. When discussing ideas around wildlife and animals, it's virtually impossible to not think of the most iconic wildlife advocate we have on planet Earth – Sir David Attenborough.
To create a new interactive game we undertook the mammoth task of researching, evaluating, and recording all the filming locations Sir David is seen presenting from in all the places he has travelled to as part of his incredible, seven-decade career. We used the data to create a map-based quiz, which reveals how your own personal travel history compares against Sir David Attenborough's. In addition to the quiz, we ran a survey on over 70's to find out where in the world they regret not visiting. This gave the campaign a two-pronged outreach approach and widened its target age range, which piqued the interest of both UK and international publications. So far, this campaign has landed 33 pieces of coverage on outlets including Conde Nast Traveller, The Mirror and Indy100.
'This story really captured the imagination and enthusiasm of the teams at both Propellernet and Explore and became a fantastic example of cross-channel integration, with Propellernet's paid media teams running campaigns on the content, as well as being pushed by Explore on their social channels, customer emails and trade newsletter. Whilst Attenborough is known worldwide, we wanted to make sure the campaign worked not just in the UK but had global appeal, and so for our outreach we also conducted a survey of people over 70 to find out people's biggest travel regrets which was really well received by international journalists.'- Raquel Pinto, Digital PR Executive
The Canine Car Report- Autotrader
https://www.autotrader.co.uk/cars/sell-my-car/canine-car-report/
With a brief to build links to Auto Trader's 'Sell My Car' page, we had an ideation session on all the things that might help attract, or could put off, potential car buyers from buying the car you were trying to sell. Our insight stage revealed that whilst cars that have been used by smokers and young families put people off buying cars, it's our canine pals that can really be detrimental to your car sale. Our survey found that 80% of the public are put off when getting into a car that also transports dogs, with 44% saying a car that had signs of dog use would put them off buying that car – and 28% of people saying they'd rather walk than share a car with a dog!
Using stats from our survey, expert tips from dog trainers and specialist car cleaners and detailers, as well as sharing the rules from the Highway Code for dogs in cars, and research showing which dog breeds make the best car companions, we created a Canine Car Report. The various elements of report helped us to secure over 60 links, with an average DA of 68, with 20 new referring domains and the majority of coverage coming from UK sites.
'We had lots of angles and content in this report to share with both UK and international media, so planning our outreach stages was key. We didn't want to cross-pitch or bombard writers, so we took a careful planning approach, pushing different angles to different industry niches in different countries at different times. This studious approach though meant we had links coming in regularly over eight weeks, from some super authoritative domains such as Country Living, Fartherly, and The Scotsman.'- Stephanie Finch, PR Director
The World's First Mermaid Spa Day- Spa Seekers
https://www.spaseekers.com/spa-insider/inspiration/mermaid-spa-day/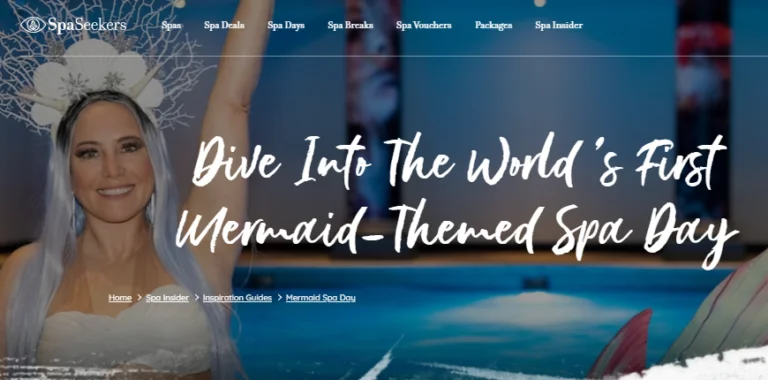 Building links from high authority, relevant domains is a key part of our strategy SpaSeekers.com and to get the press' attention we know we need to either provide expert insight or something unusual and shareable.
For this campaign we used the media hook of the new Little Mermaid film to create a shareable and fun story. We worked with one of SpaSeeker's spas to host the world's first mermaid spa day – where you can enjoy a bespoke sea-themed beauty treatment, specially created mermaid cocktails and mocktails, and even get to try on your very own mermaid tail by the pool. Since its launch at the beginning of May, this campaign has landed a whopping 68 pieces of coverage on a range of publications including The Metro, The Scotsman and PBL Magazine.
'It's super fun tapping into a pop culture moment and it was great to see our mermaid spa alongside the coverage of the release of the new Little Mermaid film. The coverage was a great mix of lifestyle press, regionals and spa trade press, from both the UK and around the world.'- Louise Parker-Peiris- Head of PR
The World's Best Wine Holiday Destinations- CV Villas
https://www.cvvillas.com/blog/archive/worlds-best-wine-destinations/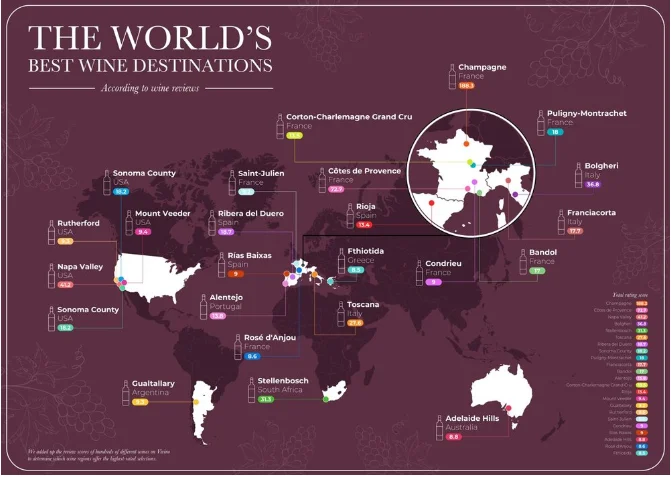 A key focus for CV Villas is to build both brand awareness and links ahead of the peak-holiday season. We know from SEO analysis that there is an opportunity to improve rankings for 'family villas' and 'villas with pools' and we also know from strategy insights that the CV Villas customer base is likely to enjoy luxurious breaks. So, we used this to inform our ideas brief to create content that ranks for these terms as well as creating a story that taps into more luxurious travel.
Knowing from our strategy insights that CV Villas customers have an interest in fine foods and wine, we analysed Vivino data to reveal the regions producing the most highly-rated wines. We also turned to Instagram data to reveal the most beautiful vineyards in the world, allowing us to go out to press with two angles from one campaign. After just one week of pitching, we have secured 10 pieces of coverage on sites including The Metro, with an average DA66, and six of the linking domains are new.
'This story draws on a niche aspect of travel – wine tourism and food experiences – and it definitely resonates with our core target audience. Using the 'most beautiful vineyards' angle also allows us to pitch to more lifestyle and travel journalists, which helps to grow the brand awareness beyond the traditional customer base that CV Villas are used to communicating with.'- Maddie Davies, Digital PR Manager
Press Office Best Bits
Humanery- TikTok's Obsession With Pickles
When TikTokers started using pickle juice as skin toner, the team knew they had to get Thom Watson, a skincare maestro at men's wellbeing and grooming brand Humanery, to intervene. His advice and top tips resulted in over 48 online placements including The Sun, Indy 100, the Evening Standard and Manchester Evening News.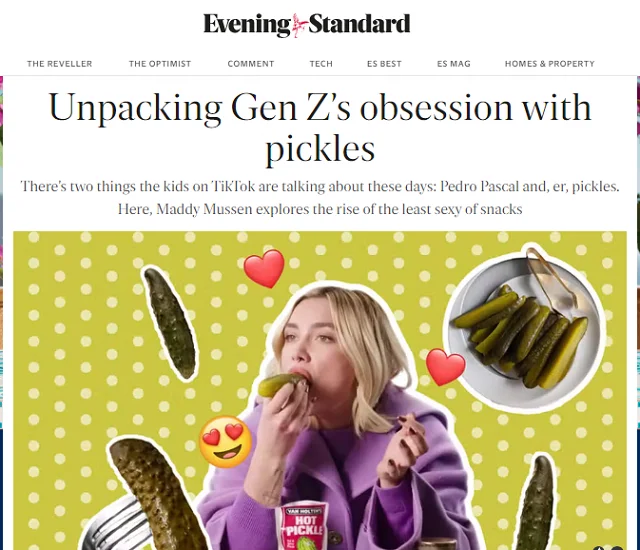 GetAgent- Bridgerton Buildings
Bridgerton-themed stories can be a goldmine, just like the filming locations of this month's hotly-anticipated spinoff series. The team worked with worked the property experts at GetAgent to reveal how much the filming locations from the latest series of Bridgerton are estimated to be worth if they were to sell in 2023. This super quick-to-activate, topical press office story gained seven pieces of highly relevant coverage, including on Apartment Therapy, Distractify and Casa e Jardim.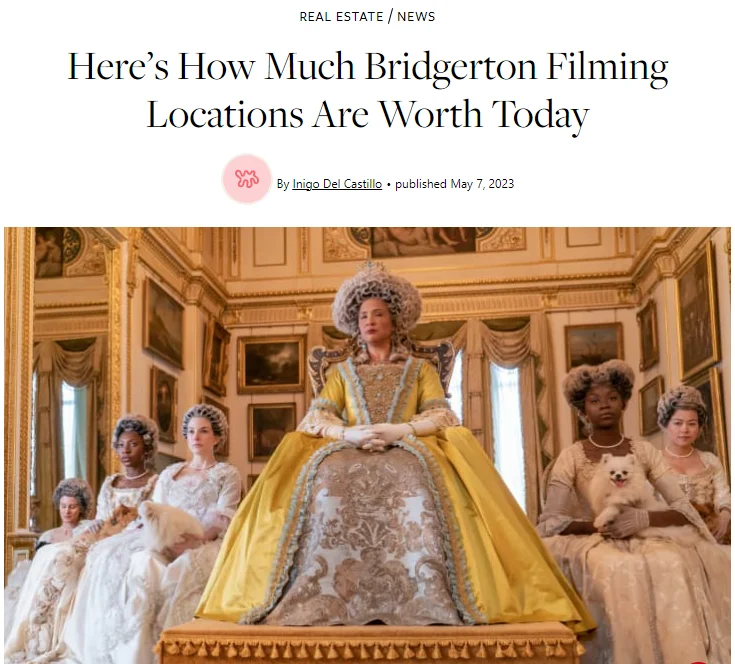 PureGym- The UK's Oldest Personal Trainer
Sometimes great opportunities for links and coverage come directly from your client. This month, the team worked with PureGym to pay homage to Edward Diget, the UK's oldest personal trainer. At 78, Eddy- PT at PureGym Milton Keynes- has an amazing backstory, and is a hugely inspirational character. So far, Eddy's story has been featured on the Metro, Milton Keynes Citizen and BBC News, with the BBC doing two separate interviews with Eddy to discuss his story and work as a PureGym PT.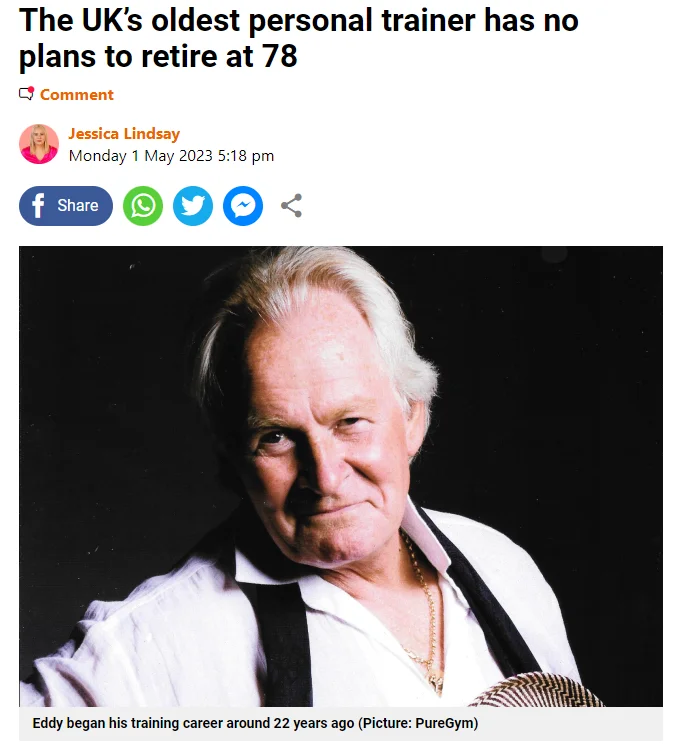 Do you want our Digital PR team to work their link-building wizardry for your next brand campaign? Drop them a line here.