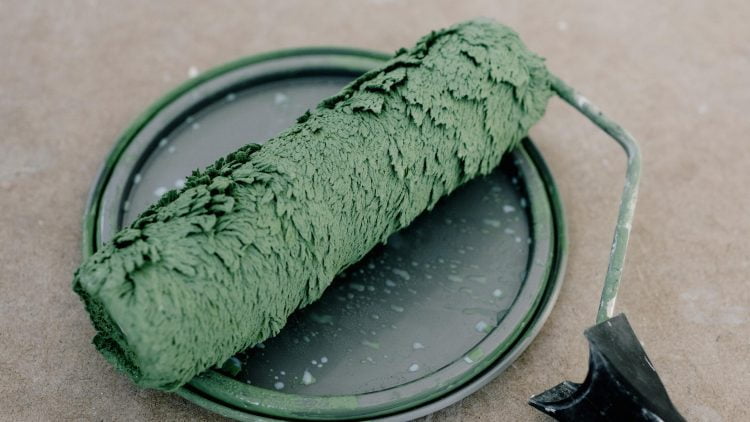 What Google Can Tell Us About The Nation's Home Decor
This past year has seen many of us pick up the paintbrushes to keep ourselves occupied as we've spent increasing time at home. 46% of homeowners improved their home in 2020, and for half, that meant painting according to Rated People's 2021 Home Improvement report. With many DIY shops closed during lockdown #1, fixer-uppers all over Britain took to online shopping to buy their supplies. For plenty of us, purchasing paint online might have felt like a bizarre concept before 2020, but it's quickly become the norm, and this is reflected in search behaviour and the emergence of brands like Coat and Lick.
What colour paint has the UK been searching for?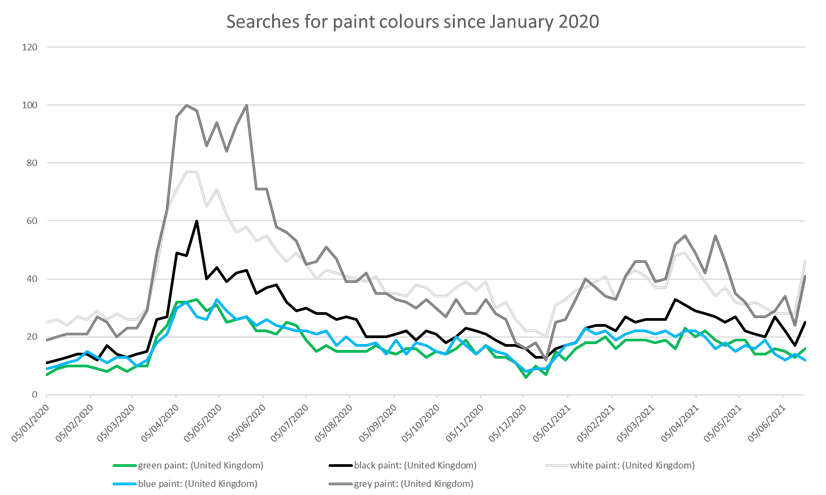 *Source Google Trends, June 2021
It's clear from this graph that April 2020 saw a spike in search for all paint colours we looked at, but grey comes out trumps. Could this be down in part to the success of Mrs Hinch and her appreciation for a grey aesthetic? There have even been memes about the growing trend, with jokes of grey gradually invading homes around the UK. White paint was a strong contender too – minimalist interiors have been trending for the last few years, but really took off when Kim Kardashian revealed her extremely minimalist and white home back in February 2020. While black paint sits in the middle, relaxing blues and greens have still been popular compared to fire-like colours such as red, orange or yellow (not shown here).
When digging into searches around different shades of paint, I chose to focus on green as it has a wider range of shades than grey, white or black.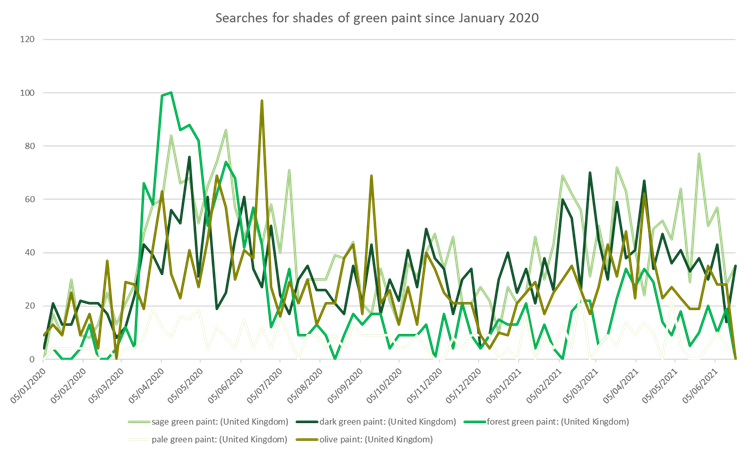 *Source Google Trends, June 2021
Eagle eyes on social media will have spotted the fad that was #SageGreen, coinciding with the hype around 'cottagecore', with over 74 million views of the hashtag on TikTok and over 104,000 uses on Instagram. Whether in fashion or interiors, the colour has been everywhere, so it's interesting to note that although searches for sage green paint have been high, it's forest green paint that was the winner for the first lockdown, with olive green paint on top in July and October 2020, followed by sage green paint in the first half of 2021.
As well as the nation's newfound love for DIY and painting, 2020 saw two key players join the paint industry – as previously mentioned. Lick Paint and Coat Paints were both founded in January and June 2020 respectively. They've both developed a huge presence on social media in the short time they've been around, yet interestingly neither have managed to take off in search this year compared to other, albeit well established, paint brands.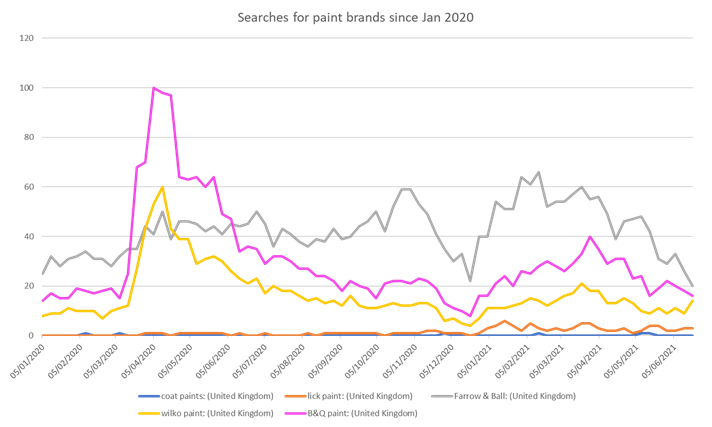 *Source Google Trends, June 2021
Here we can so clearly see a spike in searches for B&Q and Wilko paints during the first lockdown (and to give them credit Coat Paints didn't actually exist at this point) as well as high demand thereon, while the two newcomers stay very low interest. It's not a case of them not being known – as I mentioned, the two have a combined following of 200k on Instagram. Since the beginning of 2021, there has been a slight rise in searches for Lick Paint which is a very positive sign for the company.
Note – It's interesting to see how Farrow & Ball didn't have the same soar in brand searches. Were painters snubbing the famously pricey paint for cheaper options?
When comparing brand searches for Coat and Lick directly, it's clear that Lick is dominant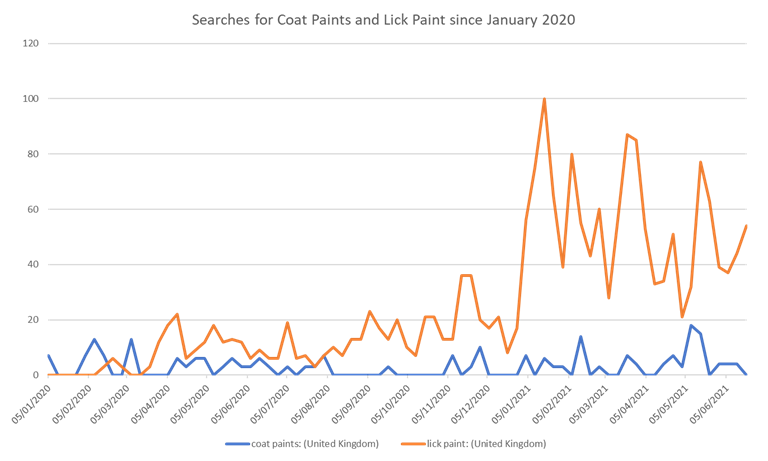 *Source Google Trends, June 2021
This was somewhat of a surprise to me as I expected 'coat paint' to be a highly searched topic given its literal meaning of layers of paint. It's obvious that this is in part the reason behind these searches seeing as they were happening before Coat was founded in June – yet despite this they stay well below Lick. You could assume the same for Lick, that people are searching for 'how many licks of paint?' but when viewing on Answer the Public (ATP), searches for 'lick paint' are more brand focused. "Can lick paint be used on wood?", "Is lick paint washable?" or "Where can I buy lick paint?". Searches for 'coat paint' on ATP are mixed up with many non-brand terms, "What is peel coat paint?", "Gel coat paint near me", "One coat paint vs two".
When comparing searches for paint colour vs brand, people appear slightly more inclined to search by colour than by brand, although not by a lot.

*Source Google Trends, June 2021
However, during the first lockdown this search behaviour changed to show a noticeable surge in brand-led searches. It's difficult to say exactly why this is, but it's possible that with more time on their hands' people were happier to browse company websites to get inspiration for their home decor. Whatever the reason, this should serve as a reminder to the likes of Coat and Lick paints that it's essential to optimise to have a presence for when buyers are looking for specific colours, but also for when searchers are in need of more general inspiration.
As someone who has used both Coat and Lick paints recently (and loved them both), I'm very excited to watch the two brands grow into household names. For more search behaviour pieces, check out our sister blog on searchlistening.com. If you're a paint (or other!) brand wanting to work with search optimisation experts, get in touch.