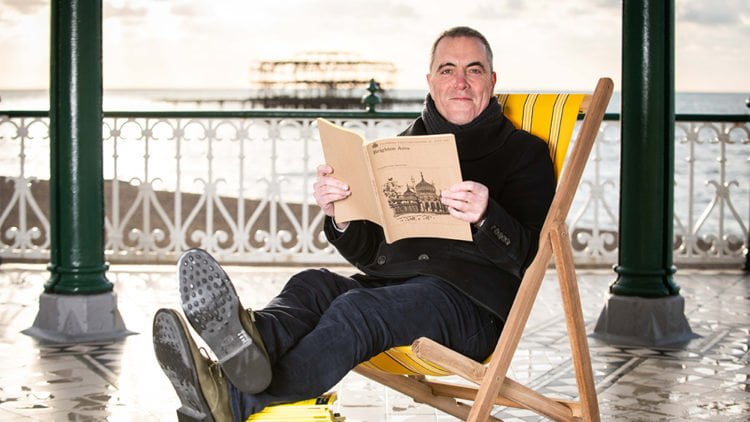 Actor James Nesbitt & our client Yell.com celebrate the end of an era
When our client Yell.com announced it was to stop printing the Yellow Pages in favour of going fully digital, the nation mourned for the household staple – and handy doorstop – which had had been our access to small businesses in towns and cities around the UK, since 1966.
However, we decided to use the opportunity to celebrate the final delivery of the much-loved yellow book, which took place in Brighton – the city where the first edition was published 53 years before.
Actor and Hollywood star James Nesbitt – who has also appeared in some of the Yellow Pages' most famous adverts – visited two Yell customers that have been advertising in the books since the very first issue, and have now moved online with the brand. He also delivered the final edition to some lucky locals around Brighton & Hove, and posed for a shoot with the first and last ever editions of the Yellow Pages at Brighton's famous bandstand… while sat on a yellow deck chair.
Ahead of the Brighton event, coverage kicked off with an exclusive with The One Show, which produced a seven-minute film about the brand's story, with James Nesbitt appearing on the sofa speaking about his memories of working with the Yellow Pages. Then, on Good Morning Britain, presenter Ben Shephard told of how he got his first PR job thanks to the Yellow Pages, and the Lorraine show opened with news of the final edition.
ITV News filmed the broadcast exclusive of the Brighton activation, which was then syndicated to the entire ITV network nationally. Then, the print exclusive landed on page three of the Daily Mail (and online) – which was picked up in the 'Papers' sections of BBC World News, BBC News 24, Sky News and Sky Sunrise.
An interview with our client – Yell.com's Head of PR Sarah O'Rafferty – appeared on BBC Radio 5 Live, which was syndicated across the BBC radio network. The campaign was also featured in The Metro, The Express, The Huffington Post, The People, The Daily Star, MSN, House Beautiful, Yours and The Argus (amongst others).
We've now had over 300 pieces of coverage for the campaign, and a very happy client who said:
"The Propellernet PR team did an outstanding job around our Yell.com roadshows and final delivery of Yellow Pages. Working together over the past year, I was genuinely delighted with their creativity and expertise helping us to deliver a hugely successful campaign across UK national & regional media. Our ROI totally exceeded our media expectations – fantastic team!"
If you'd like to speak to someone about the PR support we could offer your company, give us a call on 01273 760950.