At the end of last year, we pulled together a detailed site migration guide supporting those brands who might be considering taking the leap in 2021. Each week we will focus on a new stage to support you with your migration plans and help you maintain your SEO performance throughout.
Site migrations can provide a fantastic opportunity to improve the functionality of your website and fix all those frustrating CMS quirks that prevent you from getting the most of your current setup. Conversely, you might find yourself in a situation where a migration becomes unavoidable. Maybe a new piece of back-end software won't work with your current setup, maybe you're (finally) switching the site over to HTTPS or maybe you're going through a complete re-brand where your entire domain name needs to change.
Either way, a migration can be a fantastic opportunity to re-build your site as you'd always wanted it and fix all those long-standing issues that you've come to despise over the years. But migrations also carry a SEO huge risk, and can, if badly implemented, lead to a complete loss of visibility in search engines, organic traffic and revenue.
This is a worst-case scenario and can be avoided with some planning and careful implementation of a clear migration strategy. But there can be a lot to consider when making such large-scale changes to your site, so we've utilised our Tech SEO team's comprehensive experience in site migrations to create this in-depth guide to help steer you through the process.
This week we are focusing on Planning and Scope…
Vital to any migration success is the planning and scope stage to fully understand the objective, timing and key actions or milestones of the project. It is essential that this is well communicated across all parties involved, and centrally managed to keep the migration on track.
In addition, it is worth noting that SEO requirements for a migration can often be left to near the end of a migration plan, by which point it's often too late to adequately implement the required functionality. Many of the issues impacting SEO, such as page weight, site structure and domain consolidation need to be addressed at the very earliest planning stages so it is important that SEO is considered at the very start of the process.
1.1: Timings & Potential impact
From an SEO perspective, it is important that the site migration takes place at a time of relatively low site traffic to minimise the impact of the migration.
Typically, a site migration will change many aspects of a website, with the site's design, templates, coding, content and entire URL structure potentially being altered.
When this happens, search engines need time to understand the changes that have taken place, and there may be a period of reduced organic traffic while, for example, they crawl and index redirected URLs.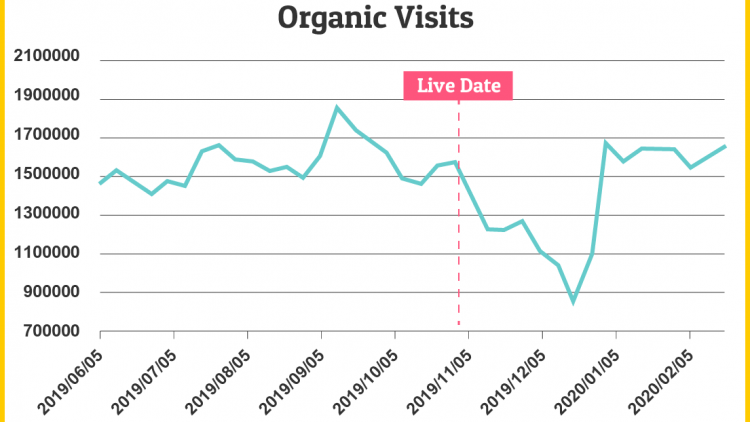 For this reason, we'd advise agreeing on a go-live date that allows at least 2 months of recovery before your site's busiest traffic or trading times.
1.2: What's in Scope?

As mentioned above, many elements can be changed as part of a site migration. It's important to understand the full scope of changes that will take place during the migration to allow whoever's responsible for your SEO to plan work, estimate the impact of the migration and reduce the impact on organic visibility.
Examples of elements that may be changing as part of the migration include:
• Design of the site, including page templates
• Site URL structure
• Site domain (i.e., www.example.com may change to www.better-example.co.uk)
• Site Content Management System (CMS)
• Site code base (i.e. incorporating more JS elements into pages)
• Site content
• Site security protocol (i.e., changing from http://www.example.com to https://www.example.com)
• Domain consolidation (combining one or more domains, moving sub-domain content to the main domain)
• Internationalisation (i.e. adding content to target different international markets)
• Mobile responsive design
Any, or all, of the above, maybe changed during a migration, and each element requires time for search engines to understand the changes.
1.3: Staggered Migrations & HTTPS
Once you've worked out the scope of your migration project, you need to agree on whether everything is going to be implemented at once or opt for a staggered migration. While project timings and budgets don't always make this possible, we'd recommend that if a lot of on site elements are changing, a staggered migration is considered. This means that some elements are changed separately, their impact assessed, and further changes are then made at a later date.
For example, we'd suggest that content changes are made separately to a migration to a new CMS so that the same content is 'lifted and shifted' to the new platform where possible. This is partly to reduce the number of site changes search engines need to process in one go, and also to make it easier to measure the impact of each major change that's made as part of the migration.
Similarly, Google's advice on HTTP to HTTPS migrations is that they should be undertaken separately from other large-scale site changes as it makes it easier for Google to understand that the new secure version of the site is the same as the old non-secure version and quickly re-index pages under the new protocol.
We'll be looking closer at advice on HTTPS in the upcoming weeks as we recommend sites use this version of the protocol (and because many will be on HTTPS already and this needs to be tested as part of the migration), but we'd suggest that any change from HTTP to HTTPS should be carried out as a separate migration.
1.4: Traffic Alternatives

As the migration is likely to result in a short-term loss of organic traffic, it's worth looking at alternative sources of traffic to the site during the process to make up the shortfall. This may include increasing PPC budget on certain high-value search terms that may lose organic visibility through the migration or increasing the frequency of email campaigns during the migration process.
Once a date for migration has been agreed, it's important to scope out these additional marketing activities and understand what will need to be increased, and over what period.
1.5: Required Functionality

While making large-scale changes to the site does carry risk to organic visibility, it also provides a great opportunity to fix current issues, update site functionality and ensure current SEO best practice is being delivered.
For this reason, we suggest SEO requirements are fully mapped out and considered when a new CMS or site design is implemented. We often find these requirements are best communicated through user stories using the format:
"As a <type of user>, I want <functionality example> so that <benefit for SEO>."
This can help to explain exactly why you're pushing for specific changes to be made, and which stakeholders will benefit from the functionality. For example:
"As a content editor, I want the ability to redirect pages in the CMS so that I can ensure equity from out-of-date pages is passed to a relevant up to date URL."
We can then rank these requirements by importance to help with prioritisation, stating which functionality is:
a. essential,
b. highly recommended
c. preferred.

1.6: Site Speed, Usability & Mobile Responsiveness
Site speed, usability and accessibility via mobile devices are very important elements in how Google assesses websites, and how users interact with your brand online. It's important that these issues are taken into account during the development build of a new site to ensure it works well on mobile devices and that pages load as quickly as possible.
For this reason, we'd recommend considerations for both are included as part of the scoping process, particularly where site redesigns are concerned.
Site Speed
Site speed can be benchmarked through Google's own Page Speed Insights and Lighthouse tools, which will give your site a grade out of 100, as well as suggestions for improvements. This insight can be used to understand current performance and also provide recommendations on ways to improve on this score in the new build.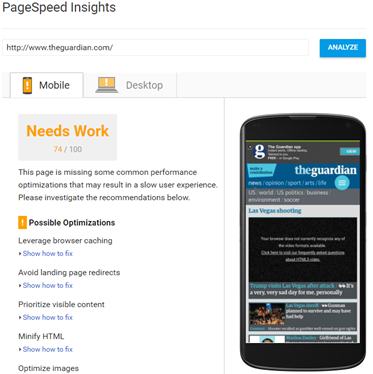 Mobile responsiveness
In terms of mobile accessibility, we'd strongly suggest any migration that deals with a redesign of the site's templates is built from a mobile-first perspective to ensure mobile users have the best experience possible, and to help ensure you're not serving different content to desktop and mobile users. This is increasingly important from both a user's perspective and to ensure the site is optimised for Google's mobile-first index.
So, that's the first stage – Planning & Scope – done. Be sure to check in next week for the second stage of our site migration guide, looking at the Pre-migration stage where we will be looking at benchmarking, road mapping and auditing!
If you're after more information, clarification, or want to chat your own site migration through with an expert, just get in touch.